Important Information for your Visit to OOP
ICM Munich: The OOP Venue
The OOP 2017 will take place at the ICM, Am Messesee, 81829 Munich, Germany.
Arrival
The ICM is close to the Underground Station "Messestadt West" (U2). Detailed directions for travelling by public transport, car (including SAT NAV details) or plane can be found at www.icm-muenchen.de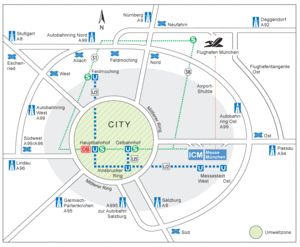 Registering at ICM's Maing Entrance
Please follow the signposts starting at ICM's "U Bahn" station and parking deck. At registration in the main entrance you will receive your conference ticket and all important information about the conference.

Opening hours registration desk
Monday, 30 January 8.00 a.m. - 06.30 p.m.
Tuesday, 31 January 8.00 a.m. - 06.30 p.m.
Wednesday, 01 February 8.00 a.m. - 06.30 p.m.
Thursday, 02 February 8.00 a.m. - 06.30 p.m.
Friday, 03 February 8.00 a.m. - 01.00 p.m.

Exhibition opening hours
Tuesday, 31 January 10.30 a.m. - 10.30 p.m.
Wednesday, 02 February 10.30 a.m. - 06.30 p.m.
Thursday, 03 February 10.30 a.m. - 06.30 p.m.

Admission checks
Please carry your admission pass with you at all times. You will be checked within the ICM entrance area and upon entry to each conference room.

Food and Drinks
We will be offering you a comprehensive buffet (also vegetarian) including a salad bar and desserts as well as soft drinks.
On all conference days we offer unlimited coffee and water. In addition, you will find "special coffee corners" in the exhibition area during breaks, where espresso and cappuccino will be available.

Conference App
While at OOP 2017, use the comfortable SIGS DATACOM iGuide:
• Program and speaker information
• Downloadable presentations (only available to paying conference participants)
• Speaker and presentation evaluation
• Highlights and keynote speeches
• Edit favorites function
• Venue and location map
• Special events
The SIGS DATACOM iGuide is available free of charge from the Google Play store and the App Store. Also you can enter our web version with your Smartphone or Tablet-PC.